Convenient Access
Citizens Savings Bank understands that life can get busy. That's why we offer the convenience of online banking. Using your online banking account, you can check account balances for your various Citizens Savings Bank accounts, transfer funds between accounts, view images of checks and more all from your home, office or anywhere you have an internet connection.
How to Get Started with Online Banking
Retail Online Banking – New Customer Enrollment Process
Online Enrollment (New Customers who have never been in online banking)
Step One
New consumers enrolling in online banking will need to click the Enroll link (located below Login button) from the home page http://www.bankingwithcsb.com

Step Two
Fill in all the required information and click Enroll.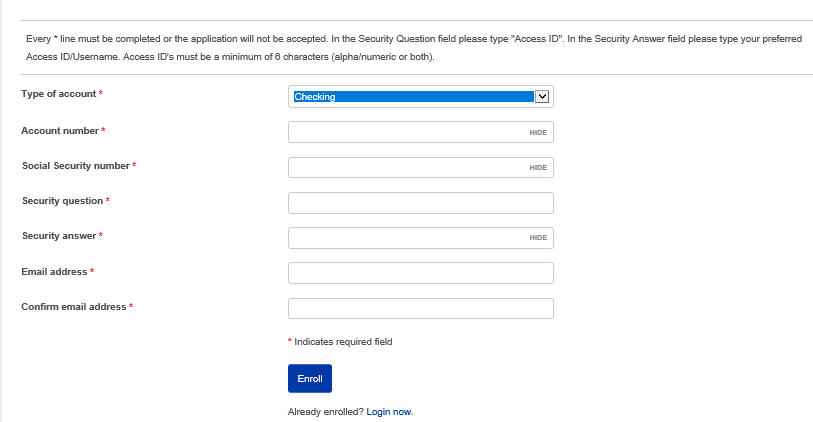 *All fields above are required fields.
Step Three
Once you click Enroll you will then be prompted to the screen below. A representative of the bank will contact you via email within 1-2 business days with a Username. You will need to call the Spillville Branch to receive your temporary password.

Step Four
After you are given your temporary password from the account representative you will now log in by going to the homepage and signing in with the Username that was emailed to you. You will then need to enter the temporary password you were given and click Login.
Step Five
The next screen is the Online Banking Access Agreement which you should open and read. Once you have read the agreement, you will need to click Accept. If you click Do Not Accept you will be returned to the Online Banking Login page and will not be allowed to continue to view your accounts.
Step Six
Next you will need to change your password. You will need to select a password that meets the criteria listed. You will then need to re-enter that password to confirm it and click Continue.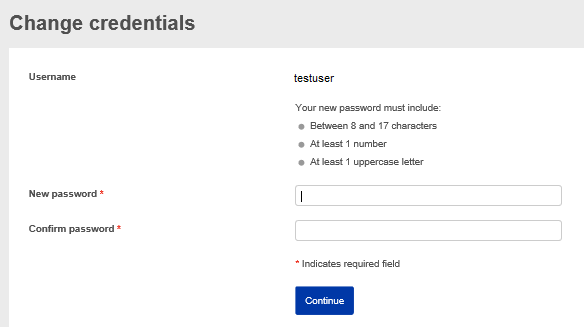 Step Seven
Following the selection of your password you will need to select and answer three security questions which will be used when signing into a public computer or to verify identity if you have forgot your username or password. Click Continue.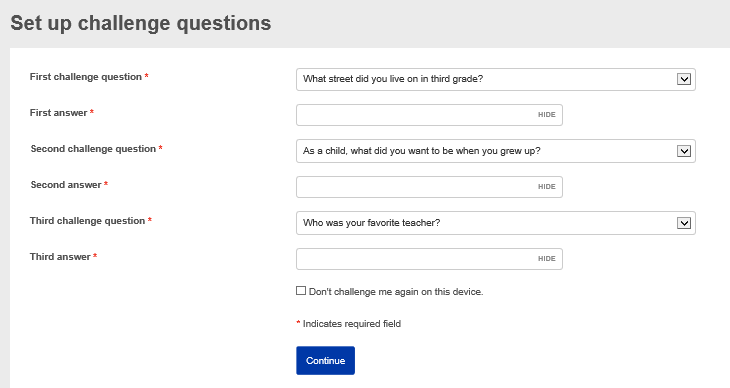 Step Eight
Once you have selected your security questions you will be prompted to enroll for e-statements. Enrolling for e-statements is not required but if you select Decline or Ask me later you will be charged a $2.00 monthly fee for each account that is not enrolled in e-statements (E-Statements can be printed or saved to your computer and will also be saved within your online banking for 36 months). Once you have selected the accounts you would like to have enrolled for e-statements you must click on the Electronic Statement Disclosure and at the bottom of the disclosure will be a Confirmation Code that you will need to enter to proceed. Once you have the Confirmation Code entered and have checked the box that you have read and accept the electronic statements terms and conditions, click Enroll.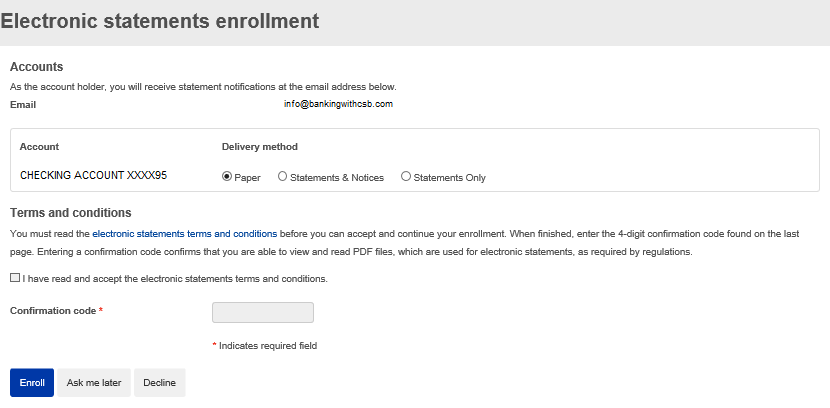 Step Nine
Once you are enrolled for e-statements, you will be prompted to enroll for Mobile Banking. Enrolling for Mobile Banking is not required. Select Enroll, Ask Me Later or Decline to select your Mobile Banking preference. If Enroll is selected, you will need to follow the directions for the services you plan on using based on your mobile device. You will finish the enrollment process from your mobile device. Detailed instructions can be found under Mobile Banking. Click Continue.
You should now be able to view your Citizens Savings Bank accounts. If you have any questions during the enrollment process or once you are in online banking feel free to contact us at 563-562-3674 or stop in at any of our locations.